SAGA-Property version 2.9.3 has been deployed to all Thailand customers. You can see current version number of SAGA at the login page for your office.

v2.9.3
Many fixes and improvements have been added to make SAGA-Property more powerful and user friendly. Like always many of the improvements and additions are based on user requests.
It is very important for continous improvements to receive as many suggestions and comments as possible on items that can be improved.
That will make the system better and more user friendly. Please continue to send us any ideas you have.
The highlights of changes in this release:
1. Property Details Page:
Many smaller changes and improvements have been made in the Property details page. The following items are the most important ones of the improvements already done.
1.1 Property activity log has been added:
This is to keep track on all important activity for each property.
An agent can enter information on activity on the property. This is  very helpful to show owners the activity in the sales process of his property.
Agents using the SAGA mobile App can also enter information on activity for each property they are selling.


Property activity can be added to any property the Agent is working on.
In SAGA it is done by clicking "Add" button in the Activity Log page.
By default the current date is selected, but any date can be entered specifically to enter information from last few days.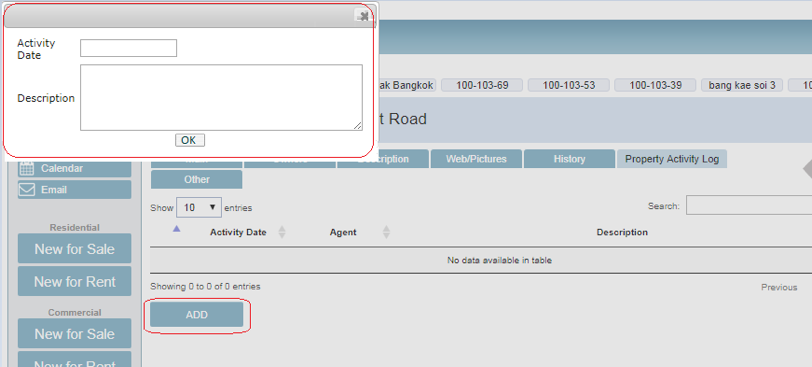 In the SAGA mobile App the activity for each property can also be entered in the property details page. See SAGA Mobile App release notes.
1.2 Other information

For some customers additional data is needed for each property. This can be relatet to some special requirements because of type of property sales take place. 
This can be some special registration like auctions data or properties owned by financial instistutes like banks or loan offices.
This is special configuration made by requiest for each individual office.
Reports of the data can be created for the needs related to the data collection.
For further information contact our sales team This email address is being protected from spambots. You need JavaScript enabled to view it.
1.3 The language of the Title and Address can be selected:

The language is selected by clicking on the flag.
The available languages are configured for each office.

1.4 Languages in Description:
The language of the description can also be selected.Some property websites allow for different languages while others do not manage languages at all. All Softverk Property Websites manage the different languages as needed.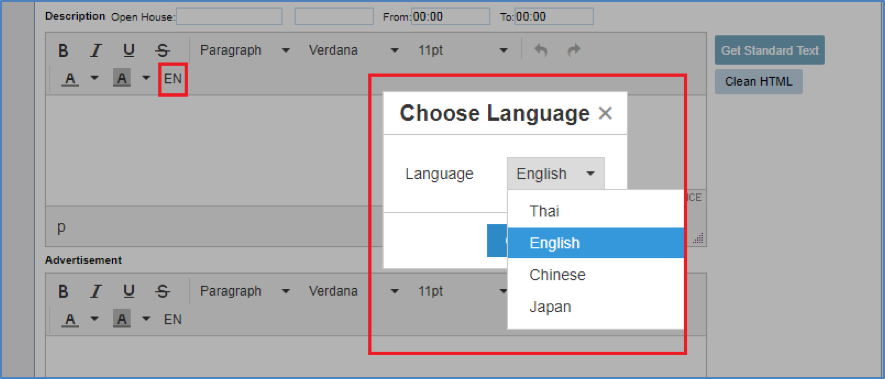 1.5 Project name, Unit codes and Unit types:
Now Project names can be entered with Unit Code and Unit type.
The types are normally used for new projects while resale of units are normally only entered with the unit number. Further development on projects in ongoing task to make even better solutions for sales of Projects and resale of them.

1.6 Street names and house numbers:
House number is in separate field from the Address/Street name. This is to ensure only the wanted information is sent to Property Portals.

1.7 Zones can be defined and entered:
For some offices Zones of the main area of sales is very helpful. For this purpose Softverk has added Zone in Property Details for customers wanting that feature. It is configurable for each office as the Zone depends on the location and are of sales 
activity. This example is typical for Bangkok area Zone:

1.8 Property Status:
The Status of a Property has been added. This is to improve the workflow of sales process and to give more information of the Status of each property in the Sales process. 
It is also used to manage new Properties for Sale and for Authorization of publishing advertizements of the property.
For larger offices the Status can only be changed by Administrator of the Office. This is so Agents or secretaries can add properties and they can be sent to Property Portals when Approved by Administrator of the office.

1.9 The Source of the Property
Now users can enter the Source of the Property. It is to keep track of how the Office/Agent got this Property for Sale. In the example screenshot the Source is contact by Email/Internet. The available Sources can be configured. 

1.10 Owner Contract for sale of property/Signing Date and Listing Expiry Date:
Many offices require a contract and signature of seller before offering a Property for Sale. Now the contract number and date of signing the contract can be entered. This is to keep track of all documents of each property.
Also if there is a limit of how long this property can be published and sold, then the 
Listing Expire Date can also be entered. It can be part of the contract or not. 

Remember: Scanned copy or Original of the contract and any other document belonging to a property can be stored with the property under Files in the Web/Pictures tab.
That can be regarded as the file storage for each property. 

1.11 Properties can have ,, half floors" floors in Thailand:
For this reason we allow "half floors" so for example 3.5 floor is accepted.
But note, many property portals do not allow for "half floors".
So it is recommended to have this information also in the description text.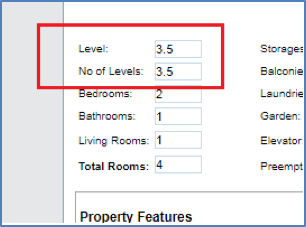 2. Main Page:
2.1 Search features added:
With new options in Property Details page of Projects more options have been added in Search on main page. Now Properties can be searched by:    
Project name, Zone and Property Status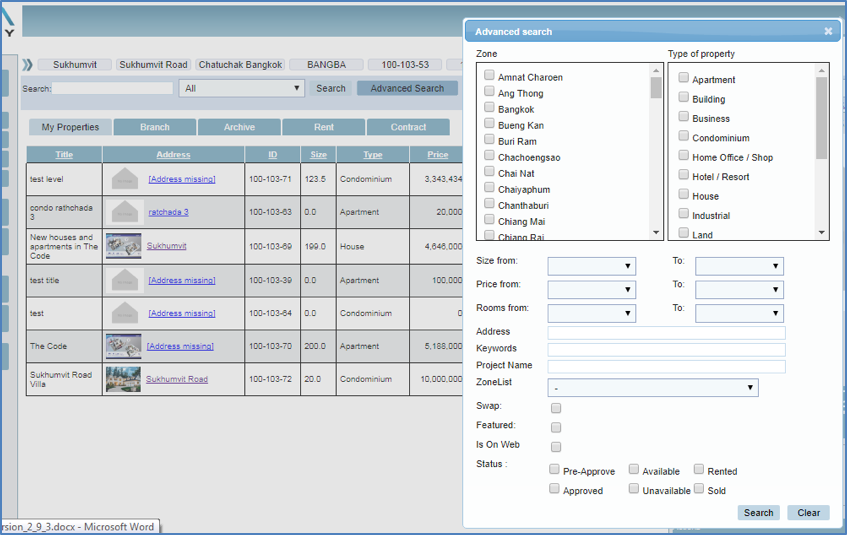 3.Reports:
3.1 Management Excel Reports:
New type of reports have been introduced in SAGA Property. It is special Excel reports for Offices. They are configured and created by Softverk for each of our SAGA Property customers. Reports can be designed to give Excel worksheet of any data within the SAGA Property System. Note the Excel reports are limited to Administrator users as most reports are intended for Management of the Office. 

4.Contacts - Leads and Enquiries
Many improvements and features have been added to Contacts for Leads and Enquiries.
This is one of the main tools for systematic and structured approach to sales management.

4.1 Contacts assigned to Agents
Each Contact can be assigned to an Agent. It is not required, but if done then this Contact is "owned by" the Agent.
In the list of contacts, the Agent Shows in the "Sales" column.
If Agent Isolation is in place in Office, then Agent can only see his own contacts, so this is highly configurable depending on each Office policy.

4.2 Contacts Details:
Each Contact contains the known contact information of the Contact.
Also the Source of the Contact can be registered, as it can be used to get more Enquiries and improves turnover of properties for the Agent/Office and improves the systematic 
and structured approach to the Sales Process.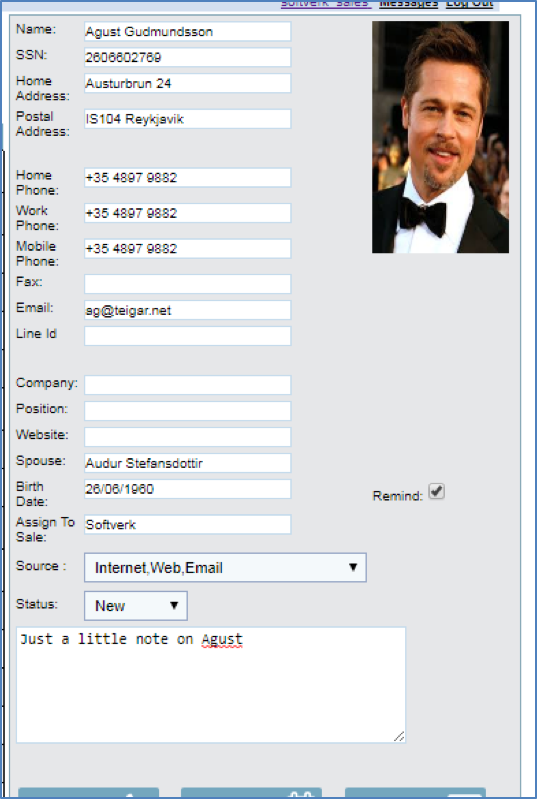 4.3 Enquiry Management - The Simple method:
Enquiry is related to a Contact making the Enquiry. A simple method of managing Contacts and Enquiries is easy to do in SAGA Property.    
Just create a Contact and enter the Enquiry in the Memo box of the Contact.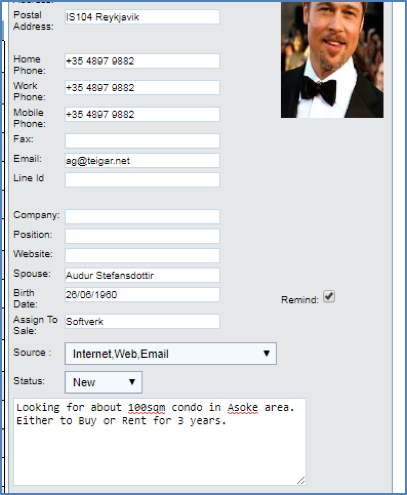 Each Contact is assigned to an Agent and the Agent is responsible for managing the Contact and his Enquiry.
4.4 Enquiry Management - Advanced
For more Advanced management of Enquiry more sophisticated system has been designed into SAGA Property. 
This Screen shows a list of Enquries: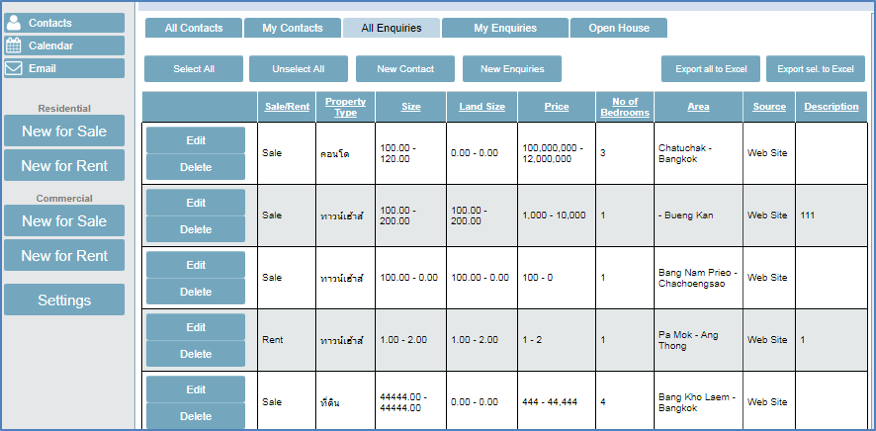 In the advanced approach an Enquiry is entered (for a Contact in SAGA Property).
The Enquiry itself can be entered as free text in the Enqury Details or/and  the details of the Enquiry can be entered into the relevant fields. 
5. Users  
Many small improvements and features have been added in Users management of SAGA Property. Following are the highlights of the new features.
5.1 Search of Users:
With larger offices as customers more needs emerge.
We have added search feature in users list. This allows for thousands of Users/Agents to be managed by SAGA Property within one office if needed.    

5.2 Expire Date of User:
For each user an Expiry Date can be set. For user with Expiry Date entered, it is checked at the SAGA Property Login if the user has Expired. If the user is not expired, then he can log into SAGA Property.  If the User is Expired (Today is efter Expiry Date) then user cannot Log into SAGA Property and gets the message of contacting his Office.    

If user has expired his expiry date shows in RED as in this example. 

5.3 Agent/User location:
Now Agent/User location can be set if wanted. It is helpful for many purposes, but mainly it can be used by Office to find Agent in the region of a Property for Sale.
It also can be shown on a website so interested sellers can contact the Agent with Property for Sale or for interested Buyer looking for Property in the region of the Agent.    

5.4 Authorization / Priviliges of Users:
With new options for User Priviliges User can be allowed to create new users (only if Admin user) and if user is Authorized to change Property Status or not.   

In addition to above mentioned improvements many smaller changes and fixes were done, some not visible to the user. All improvements will assist the users in their daily work and make life easier.
SAGA is under constant development and next release is already in progress.
If you have suggestions or comments on improvements and additions to SAGA Property, please send us email at This email address is being protected from spambots. You need JavaScript enabled to view it.
Best Regards
SAGA Property Team